THE BEST ACCOMMODATION CHOICE IN DOHA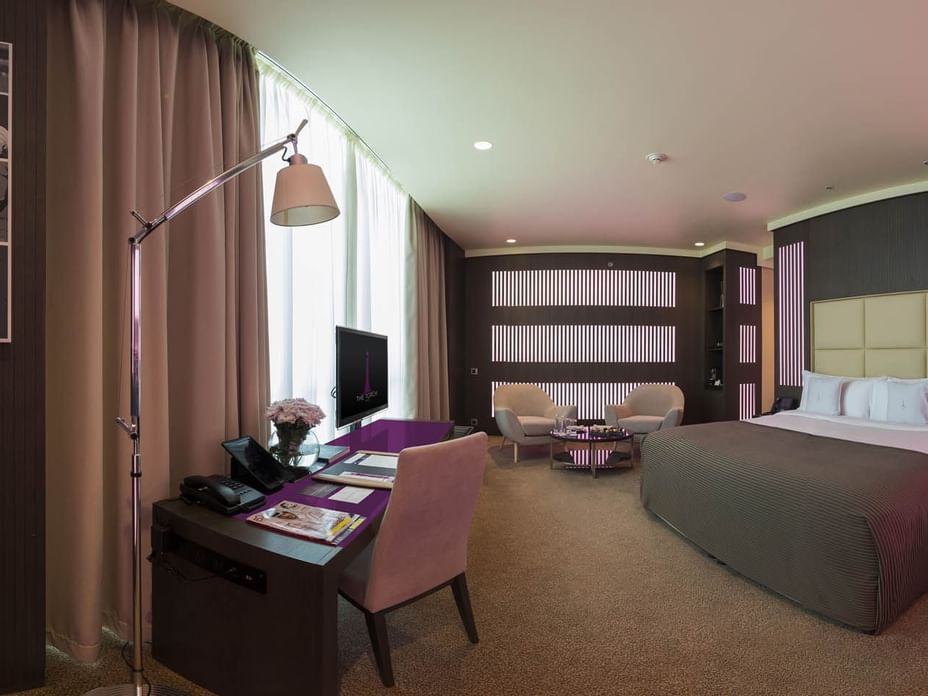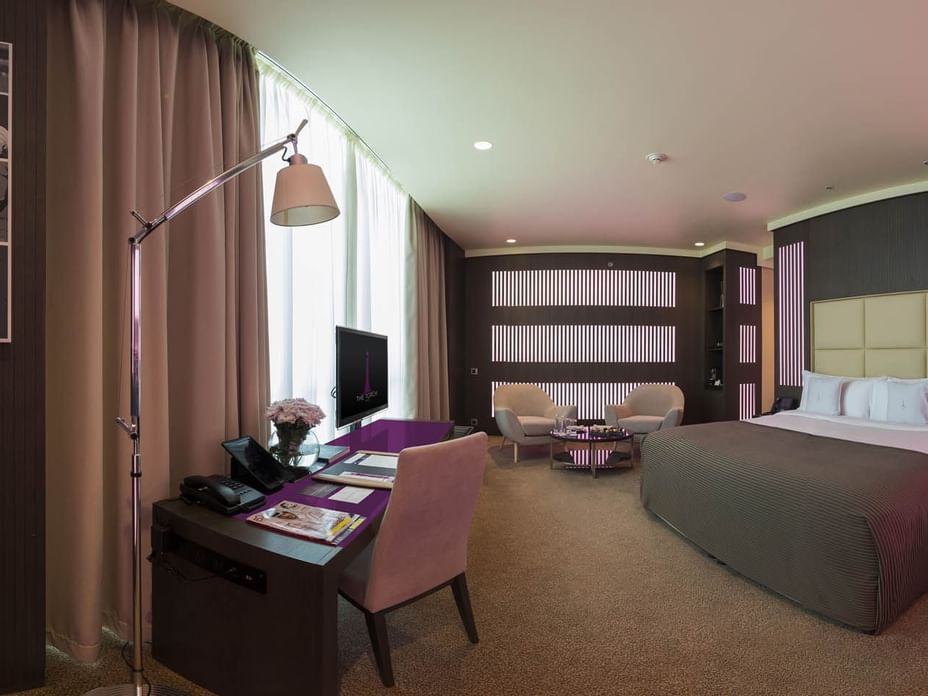 What makes a hotel the best? Impeccable service, spectacular views, amenities that cater for what's really important to you, outstanding dining and ultimate comfort... The Torch Doha offers all this and more, right in the heart of Doha.
Amenities
When staying away from home we all love those little (or not so little) comforts and the Torch Doha has gone the extra mile to take care of all those important things for you, making your stay a true home from home.
A haven for discerning visitors; business travellers, sports enthusiasts and wellness seekers alike, the Torch Doha offers something for everyone. Each room offers a unique iPad in-room solution serving as a control system for the entire room, including room temperature control (a must for accommodation in Doha), curtain and TV operation, in room dining, lighting control and more. If that wasn't enough, there's even an additional mood lighting system to provide you with a completely unique visual experience, so you can have it exactly how you like it.
For the business traveller, the hotel boasts six various meeting rooms perfect for hosting any event from small business meetings to large conferences. The event rooms are also an excellent choice for a wedding venue, fully equipped to accommodate all your guest's needs.
The Torch Doha knows how important it is to have some 'me time', which is why the hotel's Health Club offers a personalised service for optimum relaxation time, in addition to a sauna, steam room, jet-shower and a sky-high swimming pool some 80 metres above ground level.
Views & Location
The five-star Torch Doha hotel has been the tallest building in Doha since 2007, almost reaching the clouds at some 300 metres high. It's hardly surprising that at such great heights, the hotel also offers incomparable 360° panoramic views across the city.
The Torch Doha is ideally located just 25 minutes from the new Hamad International Airport and even closer to the city centre. As the centrepiece of Doha's majestic Sports City, the Torch Doha is a dream location for any sports enthusiast. Alternatively, if shopping is more your scene, hotel guests have their very own private walkway to one of Doha's largest shopping destinations, Villaggio Mall.
Room & Suites
Spread across 51 floors, each of the 163 luxury rooms and suites at the iconic Torch Doha hotel are fully equipped with all modern amenities and home comforts, to ensure a relaxing stay and the best nights sleep Doha can offer.
Deluxe Rooms are spacious and stylishly modern, furnished with one king or twin beds, individually controlled air-conditioning systems, built-in remote-control blinds, safe boxes, hair dryers, complimentary refreshments and 24-hour room service.
Junior Suites offer a stylish stay with their sophisticated interior design and spoil you with spacious interiors with separate bedroom and living room areas, including two iPad based In-Room Solutions, one for each of them.
The Executive Suites feature 115 square metres of living room area, that incorporates two master bedrooms, two bathrooms, a living room area and a pantry – characterised by earthy shades and modern minimalistic interior design. All with magnificent views of the Aspire Zone area.
For something a little extra the Diplomatic Suites are located on the top floors of The Torch Doha, offering panoramic views of Aspire Zone and Doha Skyline with a spacious living room, a dining room and a king-sized bedroom. With either one or two bedrooms, the Diplomatic Suites featuring a separate reception area and a private elevator, providing you with extraordinary exclusivity.
Dining
The Torch Doha has plenty of truly irresistible dining options to whet your appetite, including the only revolving restaurant in the whole of Qatar, the Three Sixty restaurant. Priding itself on the calibre of its cuisine, The Torch Doha offers a true fine dining experience at it's award-winning restaurants in Doha, Qatar.
Flying Carpet – This award-winning restaurant in Qatar is a magical setting to enjoy exquisite dining, featuring International cuisines and live cooking stations. Abundant natural light and a spacious outside area compliment the impressive interior of the outlet. Upon entering the restaurant, you find yourself surrounded by carpets both on the walls and hang from the ceiling. Dining here is a true Arabian fairytale experience, since the restaurant comes to life due to special lights and the plethora of actual Arabic carpets above the dining tables.
Three Sixty - As the only revolving restaurant in Doha it's a must-try dining experience in Qatar, providing a full 360-degree rotation in 90 minutes. Located on the 47th floor Three Sixty offers panoramic views of the city and an inventive menu based on Mediterranean cuisine. Live the high life and enjoy exquisite cuisine in a setting like no other at the most serene and unique restaurant in Doha.
Torch Tea Garden - This trendy high-end tea lounge is the perfect spot for a little light refreshment. Enjoy the delights of Afternoon Tea served with an exclusive finest selection of tea, mocktails, salads, sandwiches and crepes, homemade snacks, chocolate fondue and sweets.
Special Offers
Experience the Skyline Dinner at the Torch Doha - Celebrate special moments in an unforgettable setting and enjoy candle lights, rose petals decorations, and a heart-shaped cake with a delicious dinner of your selection, creating timeless moments to remember.
Delight in a Flying Carpet Casual Lunch - Casual Lunch for as little as QR 100 at the Torch Doha. Experience dining under the magical setup of Flying Carpet.