Belgian Chocolate Festival "Making and Tasting Workshops"…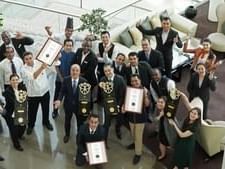 The Torch Doha and the Embassy of Belgium in Qatar have teamed up, having Qatar Airways their exclusive flight partner, to organize a second edition of the Belgian Chocolate Festival with the participation of Belgian celebrity chef chocolatier Laurent Gerbaud. The event will take place at Sky Lounge of The Torch Doha from the 20th until the 23rd of November 2018.
Unique "Making and Tasting Workshops" will be held on the 20th, 21st, 22nd and 23rd of November for chocolate lovers who want to know all the secrets about chocolate. Under the professional guidance of Laurent Gerbaud, they will have the opportunity to make their own chocolate and learn how to taste and appreciate the different varieties. The raw material used will be a balanced semi-sweet chocolate, with velvet texture and satin finish, ideal for the wellness-minded who are leaning towards a low sugar intake.
Laurent Gerbaud is one of the best chocolate makers in Brussels whose creations are a must-try. He belongs to the new generation of Belgian chocolate makers. He studied History while taking evening classes on chocolate making. After a long trip to China, he returned to Belgium and started experimenting with new flavors and ingredients, like spices, exotic fruits and sugar substitutes. His journey to China is also reflected in his logo and beautiful packaging – a red seal depicting the word "chocolate" in Chinese.
The festival will be launched on Tuesday, 20th of November by H.E. Bart De Groof, Ambassador of Belgium to Qatar, and Mr. Sherif Sabry, General Manager of The Torch Doha, in the presence of Belgian chef chocolatier Laurent Gerbaud. A vivid crowd of VIPs, media, bloggers and valued guests from both parties will be invited to the opening of the event.
Belgium is quite famous for its chocolate; the best in the world as connoisseurs often say. While the raw materials do not originate from Belgium, the country has developed over the years an unbeatable savoir-faire for the pleasure of our tasting buds. Using only top quality ingredients – in particular pure cocoa butter – Belgian chocolate is associated with high-quality gourmet specialties. With more than 500 chocolatiers and above 2,000 chocolate shops, Belgium produces almost 220,000 tons of chocolate every year, most of it for export. Brussels airport is the world's biggest shop, with over 800 tons sold annually.
Many Belgian chocolate brands are available on the Qatari market. Beyond retail products, several companies have now opened shops and even tearooms all over Doha. Several of them will be represented at the opening event to present their products. Valuable sponsors in this endeavor will be Belcolade, the provider for the raw materials and Qatar Airways as the official flight sponsor of the event.
Mr. Sabry stated, "We are delighted to host such an event, especially after last year's remarkable success. It was greatly anticipated and through the valuable collaboration with the Embassy of Belgium, we have organized a festival which will entertain and educate our guests equally".
"Such an event has been requested by many in Doha. I am therefore pleased that we could launch such a festival to celebrate Belgian chocolate by giving an opportunity to the chocolate-lovers in Qatar to learn. I am convinced that the workshops will be an unforgettable experience for all participants" concluded Ambassador De Groof.