Cherry Blossom Festival at Award Winning Torch Tea Garden…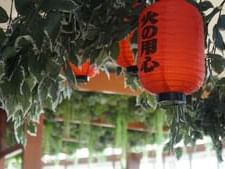 Torch Tea Garden was Awarded FAVOURITE Tea Room in Doha for 2018 from the 4th Annual FACT Dining Awards Doha, in a beautiful ceremony in Marsa Malaz Kempinski's Secret Garden yesterday. Luxury establishments from around the city were welcomed to participate in these exciting awards, to proudly compete in over 30 categories.
FACT Dining Awards recognize excellence in the food and beverage industry, with winners awarded based on both public vote and critics' opinion. Each category is given two awards, the BEST and the FAVOURITE. The latter is the result of a popular choice decided through online voting, and the former is the critic's choice decided by an independent panel of food bloggers, the FACT editorial team and industry experts in Doha.
Torch Tea Garden is an upscale tea lounge located on the 21st floor of THE TORCH DOHA hotel, offering scenic views of Aspire Park and Doha skyline. It serves an exclusive selection of tea including Japanese and Chinese Tea, with Oolong Tea and White Tea being the most loved choices. Torch Tea Garden's afternoon Tea is a multi-award winner and a top pick among its guests. Tea ceremonies are available, along with tea mocktails and small bites.
Started on April 7th, an exciting Cherry Blossom Festival takes place, lasting for one month. In celebration of Japanese Cherry Blossom Season, Torch Tea Garden has produced a delicious four course set menu, including traditional Japanese dishes and refreshing mocktails, with an a la carte sushi menu available as well. Festive atmosphere and decorations, fully blossomed cherry trees in pink and flowery kimonos are there to celebrate this deeply symbolic season in Japan. The perfect setting for the newly acquired accolade.
Mr. Sherif Sabry, General Manager of THE TORCH DOHA stated, "We are extremely proud for receiving this Award. There is no greater satisfaction than to be voted by so many people as their Favourite Tea Room in the city. This Award comes at the perfect moment as we launch Cherry Blossom Festival in our Torch Tea Garden. Fresh culinary ideas and successful events, place our venue among the top choices of entertainment in the city and such an Award adds up to the hotel's record and reinforces our commitment to service excellence."
For inquiries, additional details and reservations you are kindly requested to contact THE TORCH DOHA at +974 4446 5600 or reservation@thetorchdoha.com.