THE TORCH DOHA brings home four new Awards!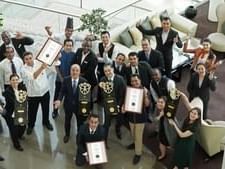 THE TORCH DOHA, proved itself a winner once more during this year's Haute Grandeur Global Hotel Awards, during a glorious ceremony. One of the finest 5-star addresses in Doha, won Best Design Hotel in Qatar, Best Hotel Service in Qatar, Best Luxury Hotel in Qatar and Best Hotel View in Qatar, participating and winning for the third consecutive year.
In the world of Award initiatives, Haute Grandeur is unmatched. Excellence is recognized through feedback from guests and not quantity of votes by the general public or a panel of judges. This fair and transparent process guarantees unbiased results – a concept exclusive to Haute Grandeur.
"The Awards inspire even greater success in already remarkable hospitality establishments and set a new standard of excellence," says De Wet. "The Haute Grandeur Global Awards™ is more than just a celebration of our dignitaries' achievements. It honors the principles of hard work, commitment, determination, leader- ship and success."
"To win an Haute Grandeur Award an establishment must excel on all levels", says De Wet. "Haute Grandeur Global Awards are recognized as a guaranteed golden stamp of excellence, with associated establishments perceived as the benchmark in the industry. By awarding only the most remarkable, Haute Grandeur inspires already exceptional hotels, spas and restaurants to achieve even greater heights. So, the winners have truly attained the ultimate in excellence, recognized with the highest accolade."
THE TORCH DOHA is a true beacon of Qatari hospitality. The luxury five-star hotel has been the tallest building in Doha since 2007. It spreads across 51 floors, consisting of 132 Deluxe Rooms, 24 Junior Suites, four Executive Suites and three Diplomatic Suites, all offering a unique iPad in-room solution that serves as a navigation system for the entire room. An additional mood lighting system also provides a unique visual experience for the guest with 12 different colour options to choose from. With three distinct restaurants, among which the only revolving restaurant in Doha, six various- sized meeting rooms, a contemporary Health Club and a sky-high, cantilevered swimming pool, the hotel prides itself in being one of the most luxurious service providers in the country.
Unique facilities, attention to detail, impeccable service and unsurpassed design have culminated in an overall of 80 Awards, since the beginning of the hotel's operations in 2012. Location, service, design, hospitality, outlets, performance, are just some of the Awarded areas and due to its remarkable reviews, THE TORCH DOHA is constantly one of the two best properties in the city for 6 years in a row. The quantity and quality of these well-earned accolades prove the property's teams' commitment to excellence and elevate THE TORCH DOHA to a true masterpiece of Qatari Hospitality.
Mr. Sherif Sabry, General Manager of THE TORCH DOHA stated, "We are greatly honored from achieving such significant Awards. There is no greater satisfaction for our property than to be highly recognized in the international hospitality arena. We are proudly representing Qatar in the world hospitality scene as the premier venue for those who are searching for state-of-the-art accommodation with latest in-room technology, sporting and fitness facilities. These four prestigious awards add up to the hotel's record and reinforces our commitment to innovation and service excellence."