A unique High Tea is coming at Torch Tea Garden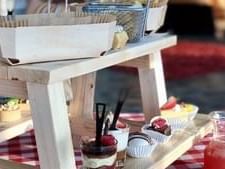 THE TORCH DOHA hotel, the most iconic property in Doha, introduces a new concept to the Afternoon Tea and brings you one with a twist! Starting October 9th, "Picnic High Tea" is launched, served on a miniature picnic table full of delicious bites along with your choice of tea or coffee. A selection of black, oolong, fruit and decaf teas are available and an expert will guide guests through the range of teas available to help them choose their ideal blend.
High tea makes a comeback with dainty finger sandwiches, delicate cakes and fresh-out–the-oven scones with home-made strawberry jam and Cornish clotted cream. Quesadillas, fried calamari and nachos, as well as tiny, delicious bites, are some of the savory classics and all take their place on the picnic table. The table layout itself is also matching the picnic concept with a checked tablecloth of red and white, being the base of this unique picnic experience! The cutlery and dishes used are from natural materials but you are highly encouraged to use your own hands!
"Picnic High Tea" is served at Torch Tea Garden, the hotel's tea lounge located on the 21st floor. This elegant, naturally-lit tea lounge is home to world-class patisserie and brasserie chefs whose passion and creativity is evident from the imaginative picnic menu.
Executive Chef, Krishnalall Beeharee, said: "We have taken traditional picnic treats we all know and love, and given them a new twist, producing an interesting, delicious menu. The fresh, seasonal ingredients make this particular afternoon tea the perfect treat, so there is no better way to spend a relaxing afternoon with the whole family and all of your friends".
"Picnic High Tea" is served daily, except Monday, at Torch Tea Garden, the hotel's tea lounge located on the 21st floor, from 3pm until 6pm and is available for 150QR. For inquiries, additional details and reservations you are kindly requested to contact THE TORCH DOHA at +974 4446 5600 or restaurant.reservations@thetorchdoha.com