New brunches and updated theme nights at Flying Carpet restaurant…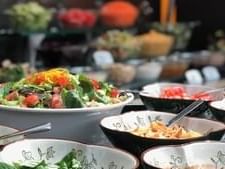 THE TORCH DOHA, the most iconic hotel in Qatar brings back the legendary theme nights and a playful set of brunches at its award-winning restaurant, Flying Carpet.
Ideally located inside the hotel, on Mezzanine 2 level, it is easily accessible from all floors and its abundant natural light and a spacious outside area compliment the impressive interior of the outlet.
Upon entering the restaurant, the guest finds himself surrounded by carpets both on the walls and hanging from the ceiling. Dining here is a true Arabian fairytale experience, since the restaurant comes to life due to special lights and the plethora of actual Arabic carpets above the dining tables.
As part of the new surprises of the restaurant, a fun set of Friday brunches will begin on Friday, September 21st with different theme every week, ranging from Tex Mex and Asian to Arabic and Smoked BBQ. Apart from the extensive buffet, a specially dedicated section to each theme is added, along with special decorations at the entire venue. This week's opening brunch features a carving trolley, live fajitas station, chimichangas, tacos and nachos corner with unlimited salsas, guacamole and sour cream and many more dishes inspired from the Mexican flavors. As for the next one on September 28th, an Asian Street Food theme is on with live noodle stations, satay meats with delicious sauces, hot pot station, tempura corner and so much more! Priced at QR 210 per person (kids (6-12yo) QR 70) Friday brunch is available from 12:30pm - 4:00pm.
Apart from Fridays, Flying Carpet welcomes back its legendary "Surf n' Turf" theme night on Thursdays. Starting from Thursday, September 20th and every week, the guests can Indulge in delicious grilled & smoked meat and fresh seafood during this long-awaited come back. Available from 7pm to 10.30pm and priced at QR 220 per person (kids (6-12yo) QR 70), guests can have all they want from fresh shrimps, scallops, crabs, sushi along with succulent steaks and premium meat cuts. A newly introduced "Trattoria Night" on Wednesdays is added to satisfy pizza and pasta cravings. Live pasta station, a wide variety of pizza, refreshing salads and delicious, creamy desserts are available in this wide buffet spread. Available from 7pm to 10.30pm and priced at QR 98 per person (kids (6-12yo) QR 50), this night will be the new favorite in town.
"Flying Carpet's new theme nights and brunches are carefully designed, offering a wide variety of choices, capable of satisfying the most demanding of palettes. As always, the restaurant bases its dishes on the seasonal supply and our Chefs construct a menu that stands out, serving the freshest of ingredients toped with the creative expertise and attention to detail of the entire kitchen team. THE TORCH DOHA is already a culinary destination in town and with these new additions, we are proud to expand the dining options for our guests." stated Mr. Sherif Sabry, Area General Manager.
Apart from Flying Carpet, a new menu has been introduced to Three Sixty, the only revolving restaurant in the city, located on the 47th floor of the hotel. "Lunch at Heights" is back, available from 12pm to 3pm daily and mouthwatering theme nights like "Steak & Lobster", "Entrecote night" and "Home-made pasta" add delicious taste to the weekdays. Additionally, a unique afternoon tea is being prepared at the tea lounge of the hotel, Torch Tea Garden, which will bring a smile on the face of both adults and kids!
For inquiries, additional details and reservations you are kindly requested to contact THE TORCH DOHA at +974 4446 5600 or reservation@thetorchdoha.com