The Torch Doha bags Awards at 2018 World Luxury Restaurant…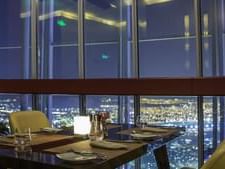 THE TORCH DOHA, the most iconic hotel in Qatar, took home three sought-after titles for Three Sixty and Sky Lounge during this year's World Luxury Restaurant Awards, held in Northern Ireland. Sky Lounge got awarded as "Luxury Unique Experience" in a country level. Three Sixty, the only revolving restaurant in the city was awarded as "Mediterranean Cuisine" in a country level and won the prestigious "Luxury Hotel Restaurant" in a regional level for Middle East and North Africa, for a second year in a row.
2018 World Luxury Restaurant Awards were organized this year in in a truly memorable celebration with over 200 guests from 42 countries across the globe, recognizing and celebrating their success for exceptional service in the luxury wellness and fine dining industries. Both restaurants were among the 1,000 entrants for these accolades, on which over 1m voters voiced their opinions. Besides voting, there was a multitude of factors that came into play for evaluating the winners, including the brand, the location, the overall guest satisfaction from online reviews, the services and facilities, the design and the menu offerings.
THE TORCH DOHA is a true beacon of Qatari hospitality. Unique facilities, attention to detail, impeccable service and unsurpassed design have culminated in more than 80 Awards, starting with just 4 at the beginning of the hotel's operation in 2012. During the years, the Awards have rapidly increased, with 19 for 2017 and already 13 for 2018 awarding season. Location, service, design, hospitality, outlets, performance, are just some of the Awarded areas and due to its remarkable reviews, THE TORCH DOHA is constantly one of the two best properties in the city for 6 years in a row.
Sky Lounge is the highest lounge in Doha, located on the 51st floor of THE TORCH DOHA. With a chic and cozy interior and a focus on chocolate and signature tea, Sky Lounge offers amazing views after sunset.
Three Sixty located on the 47th floor of the hotel, is a must-try dining experience for both visitors and locals. Being the only revolving restaurant in Doha, it offers panoramic, breath taking views of the city and an inventive menu based on Mediterranean cuisine. The most serene restaurant in Qatar has a gold history of 5 International Awards, both for the unique experience it offers, as well as its service and menu. The most preferred venue for Instagrammers in the city, Three Sixty opens its doors for dinner every day for a must-dine experience.
Mr. Sherif Sabry, General Manager of THE TORCH DOHA stated, "We are extremely delighted to win in three categories for our outlets in these prestigious global awards. Over the years we have received excellent reviews and feedback for the culinary experience we offer at our signature restaurants. Our teams have given special attention to detail not only in menu creation, but also in excelling at the service, and I would like to thank our chefs and service staff for their contribution in adding another brick to Three Sixty's and Sky Lounge's wall of fame with these awards."