The Torch Doha and Al Aziziyah Boutique Hotel celebrate multiple awards at 2023 Haute Grandeur Global Excellence Awards!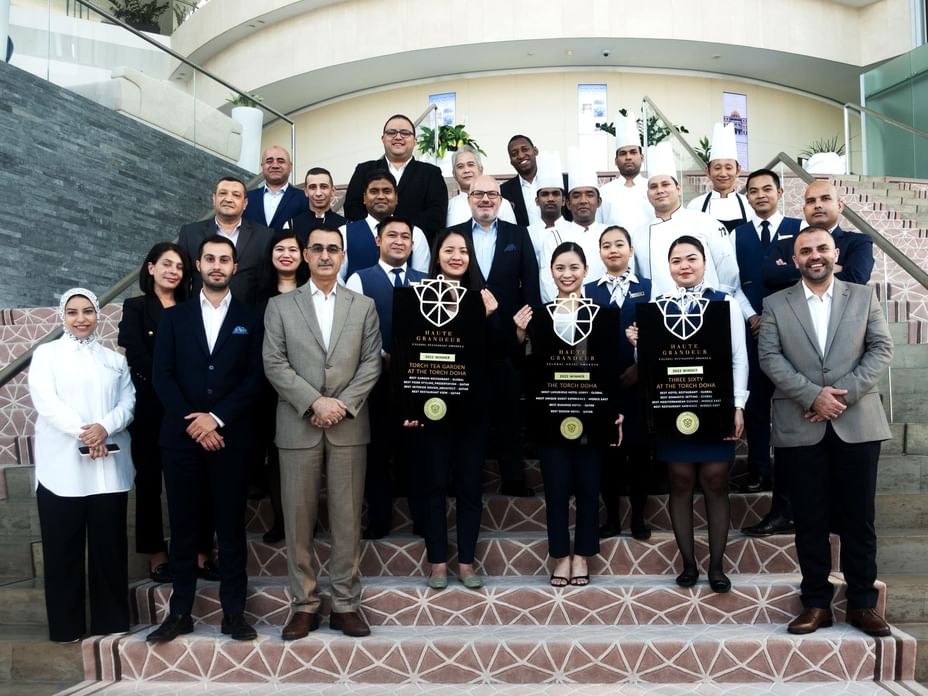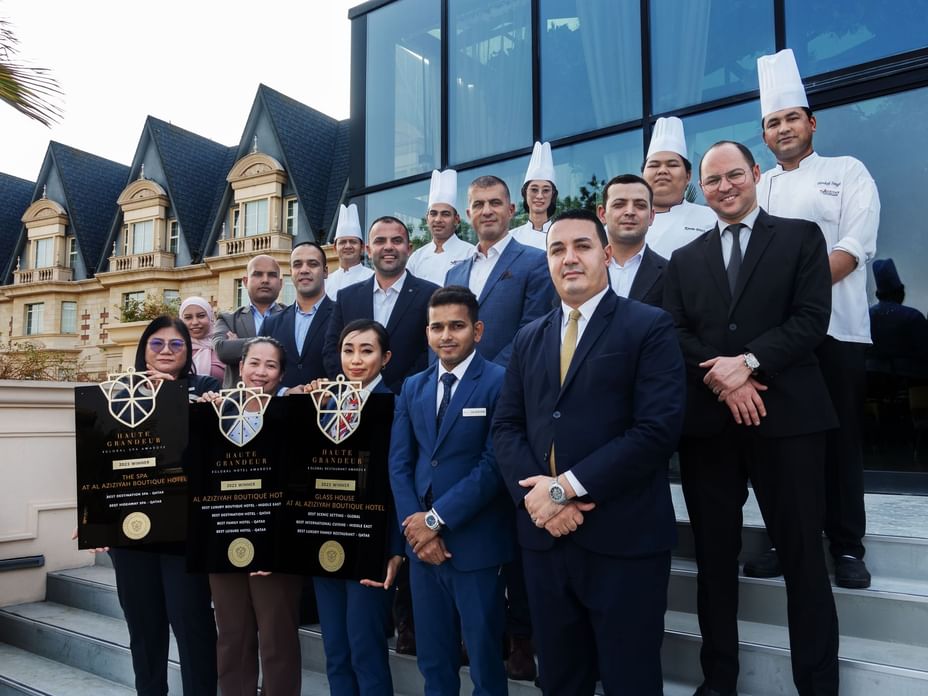 The management of the two five-star hotels; The Torch Doha and Al Aziziyah Boutique Hotel is honored to present its new recognitions from this year's Haute Grandeur Global Hotel Awards!
The Torch Doha, proved itself once more on its 8th year of participating and winning awards from the Haute Grandeur. This year, the hotel won the Most Luxurious Hotel Lobby – Global, Most Unique Guest Experience - Middle East, Best Business Hotel and Best Design Hotel in Qatar. The hotel's restaurants have received the highest achievement as the "Global winner" amongst the other restaurants from around 7 continents. Qatar's only revolving restaurant Three Sixty was recognized with the award for "Best Hotel Restaurant" and "Best Romantic Setting" and Torch Tea Garden as the "Best Garden Restaurant". Furthermore, the restaurants were also awarded as the Best Mediterranean Cuisine and Best Restaurant Ambience in the Middle East for Three Sixty and Best Food Styling/Presentation, Best Interior Design/Architect, and Best Restaurant View in Qatar for Torch Tea Garden.
With the management and teams' positive synergy, the Al Aziziyah Boutique Hotel has also been recognized and won excellence awards for: Best Luxury Boutique Hotel - Middle East, Best Destination Hotel, Best Family Hotel, and Best Leisure Hotel in Qatar.
Adding up to these hotel achievements, its facilities have also received outstanding awards. The Spa being the Best Hideaway Spa and Best Destination Spa in Qatar and the Glass House restaurant for Best Scenic Setting -Global, Best International Cuisine in the Middle East and Best Luxury Family Restaurant in Qatar.
The Haute Grandeur Global Excellence Awards recognize remarkable achievements in delivering consistent, exceptional experiences in the global luxury hospitality industry.
"These Awards trigger greater success in already remarkable hospitality establishments and set a new standard of excellence," says Founder and President, Marinique de Wet. "The Haute Grandeur Global Awards is more than just a celebration of our dignitaries' achievements. It honors the principles of hard work, commitment, determination, leadership and success. More than ever before, recognition helps teams to remain positive and goal-driven" continues de Wet.
The quantity and quality of these well-earned accolades prove the property's teams' commitment to excellence and elevate the hotels reputation in the global hospitality industry. The hotels' unique facilities, attention to detail, impeccable service and unsurpassed design have culminated an over 100 awards from the beginning of its operation.
Mr. Wael Al Sharif, Area General Manager of The Torch Doha and Al Aziziyah Boutique Hotel stated, "I am honored to celebrate the dedication and hard work of our team, which has made our hotels a preferred destination for discerning travellers. These awards are a testament to our commitment to service excellence, and they will help us to continue to provide our guests with the luxury accommodations and amenities they expect."